Spinal Decompression Treatment
Non-Surgical Spinal Decompression
Nonsurgical spinal decompression is a form of motorized traction used for back pain relief. It works by stretching the spine to change the spine's force and position.
These changes relieve pressure from the spinal discs ( the gel-like cushions between the spinal vertebrae) by creating negative pressure on the discs. It results in the bulged or herniated disc retraction, which puts pressure on the nerves and other spine structures.
Tacoma Chiropractic Health Connection, a top chiropractic clinic in Tacoma uses Spinal decompression to promote water, oxygen, and nutrient-rich fluids in discs for better healing.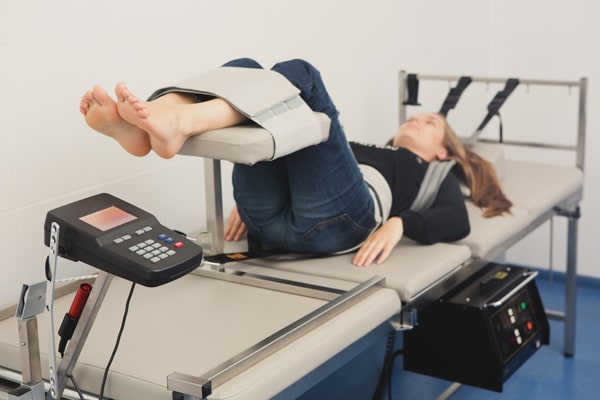 What conditions do spinal decompression treat?
Non Surgical spinal decompression treats conditions like:
Bulging or herniated discs or degenerative discs

Injured or disease spinal nerve roots

Worn out spinal joints or posterior facet syndrome

Back pain or neck pain

Sciatica
How is non-surgical spinal decompression performed?
You remain clothed through the procedure. We fit you with a harness around your pelvis and another around your trunk. Lie face down or face up on a computer-controlled table. The treatment is customized and performed as per the specific recommendations for your condition.
Other treatments: may complement spinal decompression therapy.
Heat or cold therapy

Ultrasound

Electrical stimulation
Tacoma Chiropractic Health Connection Clinic is a top chiropractic clinic that offers non-surgical spinal decompression therapy.  We use our experience and knowledge to provide the highest quality of care to our patients.
Contact us to book an appointment if you suffer from back pain, sciatica, neck pain, or degenerated discs.